April 2016
Can Creatine Supplementation Boost Bone, Too?
What if you could get bigger, stronger, more powerful muscles by adding a supplement to your diet that would also increase bone density?
Wouldn't it be worth a few cents a day?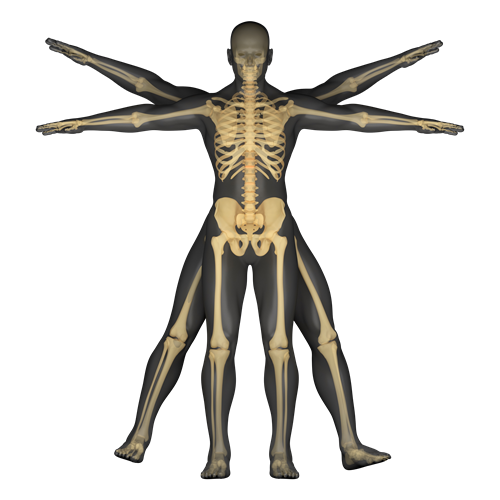 A Canadian study tested whether or not, based on the possibility that creatine supplementation, shown to be useful building muscles, would help build bone mass, too, in postmenopausal women.
The known effects of muscles pulling on bones that strengthen the bones may be enhanced by the direct effects of creatine on osteoclasts by reducing a marker of bone resorption. (Resorption is the body's way of discarding old bone; if faster than the rebuilding process, you become osteopenic or osteoporotic.)
Twenty-three women were randomly assigned to engage in thrice- weekly fully-supervised strength training (ST) sessions taking 0.1 g/kg/d of creatine monohydrate before and afterwards (CR); 24 women did the same exact, total-body ST but did not take creatine. The study went for an entire year. (Ten creatine- takers and 6 controls dropped out for a variety of reasons. Only 1 did not like the supplement. For most, time was the issue.)
The results were enlightening if not frightening.
The CR group lost an insignificant percentage of bone from the femoral neck. However, it was only 1/3 the loss in the control group. This can be re-framed as such: the CRs lost 1.2% of bone mineral density (BMD) but the controls lost 3.9%.
Neither is clinically significant but the trend, after only a year, especially in light of the ST program, is disconcerting. The upside, however, is the CRs  increased  the  subperiosteal  width which adds to the bending strength of bone. No differences were found for the spine BMD. Also, the CRs increased upper body strength to a greater degree that the controls.
Interestingly, despite not achieving statistical significance, the CRs increased lower body strength somewhat more than the controls without increasing muscle mass itself. This affirms what many studies have shown: that women get stronger mostly via neuromuscular mechanisms, not hypertrophy.
It should be noted that there were no attempts to alter or manipulate diet or calcium intakes. End-of-study reviews showed neither group changed either of those patterns. So maybe taking creatine is worth a shot.                      MSSE Aug. 2015
---
Exercise of the Month: Seated Dumbbell Raise
Sit on a bench or chair, holding a dumbbell in each hand.
Raise one dumbbell at a time to an angle from 90° to 135° directly in front of your shoulder.
Muscles worked: Primarily anterior deltoid.
Performing this exercise seated is a way to emphasize proper controlled movement.
---
Weight Lifting Improves Obese Teens' Health
When it comes to burning calories, most of us acknowledge the supremacy of aerobic exercise. When we think of resistance training (RT), we generally think of adding weight as you build muscle.  While  each  type  of  exercise  has  its benefits, when it comes to adolescents and obesity, a group of Brazilian researchers asked the question, does RT alone help obese teens not only change their body composition but also help their metabolic profiles?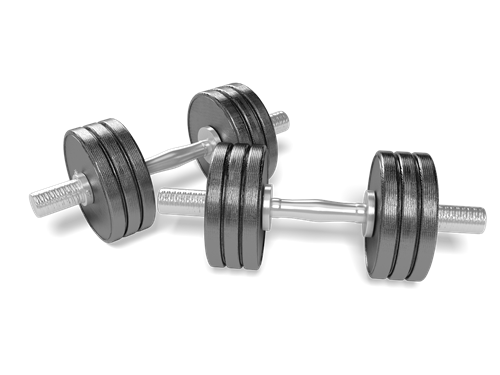 A control group of 20 kids of normal weight lived their normal lives while 24 obese teenage girls were put on a thrice weekly RT program of 1-3 sets of a total body routine for 12 weeks. All the subjects were assessed for Type 2 diabetes (none had it), hypertension,  metabolic  syndrome, muscle and skin blood vessel reactivity (how well the veins respond to occlusion and release of pressure, a measure of their overall health), body composition, and aerobic and strength fitness before and after the 12 week intervention.
It's worth noting that the 44 subjects were extracted from a pool of 83; since the study did not want to see what RT's effects were on those with diabetes, 7 of the obese kids were excluded right off. Also, 5 of the remaining group of obese kids did not complete the program. This speaks to the overall challenges of studying people once they have gained excess weight.
That  said,  for  those who completed the program, they experienced improved blood vessel reactivity  in skin and muscle (a measure of improved systemic  health), decreased blood pressure, decreased blood clotting facility (a positive effect especially as they age), increased cardiorespiratory  efficiency, increased strength and improved body composition and distribution.
Unfortunately, if you were to gauge success by absolute numbers, BMI, weight, abdominal circumference, total fat, central fat, lean muscle mass and fat mass did not change dramatically enough to sound encouraging. Nonetheless, the direction of change was positive and, as other studies have shown, aerobic exercise is harder to encourage and reinforce in the obese population but  RT is more readily adopted. So, perhaps it must be part of a bigger lifestyle change, one that is permanent and realistic.
MSSE Dec. 2015
---
Recipe of the Month: Hearty Turkey Chili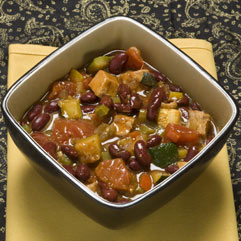 Ingredients
2 cups chopped zucchini
1 teaspoon olive oil
1 cup chopped onion
2 cups chopped celery
1 cup chopped bell peppers
2 teaspoons chopped fresh garlic
1 pound chopped cooked turkey
1 1/2 tablespoons chili powder
1 teaspoon cumin seed
2 cups diced canned tomatoes, no-salt-added variety
4 cups canned kidney beans, rinsed and drained
2 cups low-sodium vegetable broth
1 teaspoon brown sugar
Directions
Preheat the oven to 475 F. Spray a glass baking dish with cooking spray. Arrange the zucchini in a single layer in the baking dish. Roast for 8 to 10 minutes until slightly tender and lightly browned.
While the zucchini is roasting, add the oil and chopped onions to a dutch oven or soup pot. Saute over low heat until the onions are browned. Add the celery and peppers and continue to saute. Add garlic, turkey, chili powder and cumin seed. Cover and simmer for about 5 minutes.
Stir in the tomatoes, kidney beans, vegetable broth, brown sugar and the roasted zucchini. Cover and simmer for 15 minutes. Ladle into warmed individual bowls. Serve immediately.
Nutritional Analysis per Serving: About 1 1/2 cups
Calories 252
Total fat 4 g
Saturated fat 1 g
Trans fat Trace
Monounsaturated fat 2 g
Cholesterol 57 mg
Sodium 178 mg
Total carbohydrate 28 g
Dietary fiber 8 g
Sugars 0.5 g
Protein 26 g
---
E-Merging Data
A study in JAMA (Aug. 2015) cast doubt on the value of exercise to prevent dementia.
This 24-month long study found that moderate-intensity exercise did not boost cognition in sedentary seniors. However, it did improve recall, memory, and learning. It may be that the timing of starting an exercise program – and its lifetime duration – may make a difference.
Duke HealthNews Dec. 2015
Benefits of Resistance Training
A study out of Brazil tested the benefits of resistance training on the blood vessels, metabolic and cardiovascular  profiles,  fitness,  body  composition  and inflammatory markers of non-diabetic obese adolescents. The kids did a 12 wk, 3/ wk, whole body weight training program. At the end they had improved endothelial function  (blood  vessel  responses),  decreased  blood  pressure,  decreased  blood viscosity, increased exercise efficiency, increased muscle strength, improved body composition (less fat) and, despite not losing weight, reduced their markers of metabolic syndrome, a precursor to diabetes.
ACSM Dec. 2015
Kids and Heart Disease
If parents knew their kids were going to have heart disease before age 10, would they change how they raise them? A study in Finland found that low levels of physical activity that causes less physical fitness and subsequently higher body fat content are linked to arterial stiffness in kids as young as 6!!!
Those kids who were more fit, played more during leisure time, and had lower body fat had more flexible arterial walls and better arterial dilation (a marker of arterial health.) The recommendation that kids participate in higher intensity play or activities was supported by the profound association of physical fitness with arterial fitness. So, limit screen time and boost play time – for you and your kids.
Health News Canal 9/12/2015
Comments
comments