Winter – or 30th Anniversary – 2019
Pillar 1: The Winter of Our Discontent
In the summer of 1986, my colleague, Kathy Alexander, and I wondered what we would do once we finished our dissertations in exercise science at Vandy. At the time, there were very few options in that field: academia, hospital-based wellness and corporate wellness were available to those with advanced degrees. A friend of mine in NYC had started a personal fitness training center and was very enthusiastic about its viability.
At the time, personal training was limited to media stars and some high-powered business execs in large coastal cities. But only a very few renegade fitness jocks were eking out a living here in Nashville, mostly with music stars. Bill Nagel would rightfully be held up as the forerunner of the profession here.
After traveling and touring small studios in NYC, Kathy and I were convinced that maybe if we built it they would come. So, after generating our own clients whom we'd meet at their homes or in their membership gyms, we finally made the leap to open the original STEPS, Inc. gym on Belcourt in Hillsboro Village. Having little seed and advertising money and lots of dreams and hopes, and a few fitness colleagues enthused with the idea of venturing into this profession, we struggled, with the help of a couple 'angels', to survive that first year. That was December 11, 1989.
And so, this December 11 makes us 30 years young, as Nashville's and Tennessee's, and maybe even the entire country's, world's and universe's, most durable, enduring and ever-lasting non-membership, appointment-only personal fitness training center. This picture says it all….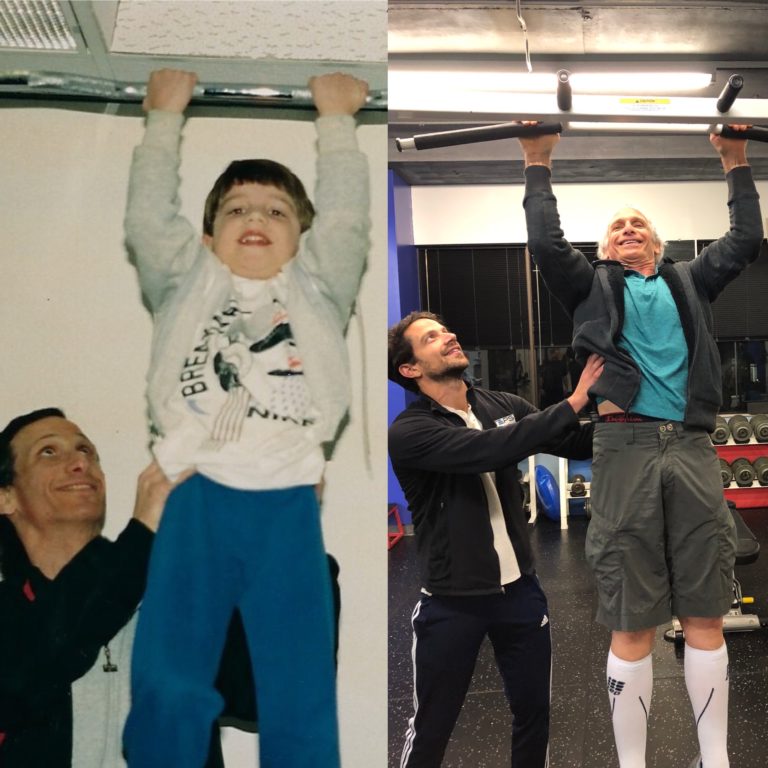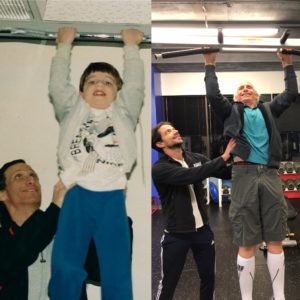 One of the core missions here was to be a source of science-based fitness and exercise personal trainers. After all, our name STEPS is an acronym for Scientific Training and Exercise Prescription Specialists. Thus, I have endeavored to keep the trainers here up to date with science-based articles from lay and professional literature without boring them too much. The reason was simple: if the trainers who work at STEPS have a solid grasp on the variety of health and physical conditioning roadblocks that plague all sectors of society, they could provide more appropriate exercise and lifestyle guidance.
And that is the discontent here. While many trainers get their certifications and stop educating themselves, content with their current training techniques and skills, the trainers at STEPS are always learning, trying to pick up new techniques that are not fads but are based on what facts the science offers. They are challenged by clients with all kinds of issues and goals and wish to provide the safest, most legitimate training they can. They are striving to learn, experiment, and collaborate with each other to help them give their clients the best they have to offer. It is that kind of discontent that has sustained STEPS Fitness for the past 30 years and maybe even 30 more.
Pillar II: The Winter of Your Discontent
As noted above, many of our clients come to personal fitness training with their own agendas, goals, limitations and capabilities. The goal for a trainer is to dig in hard enough during that initial session to figure out how to reduce or avoid the demotivating effects of exercise boredom, challenges, aches and maybe pains.
Sometimes clients come in with complicating and exasperating issues that make putting together a viable program a witch's brew without a cookbook. They look to a trainer for guidance and supervision with an exercise, diet and/or lifestyle regimen that will improve their fitness to perform activities they enjoy or need to do; to recover from injuries or disabilities; or to simply stay healthy and fit enough to live life to its fullest.
For those with chronic conditions that have led to a doctor's advice to consult with a trainer, the short- and long-term challenges can seem overwhelming. As in the case of a 75 year old woman asking me why she has to keep being challenged to improve her strength. Her chronic condition – age – prompts her to maintain an active lifestyle that includes structured exercise. But why does she have to keep lifting more weights?
My answer is simple: from 30, and especially from the age of 50, we are start losing muscle mass.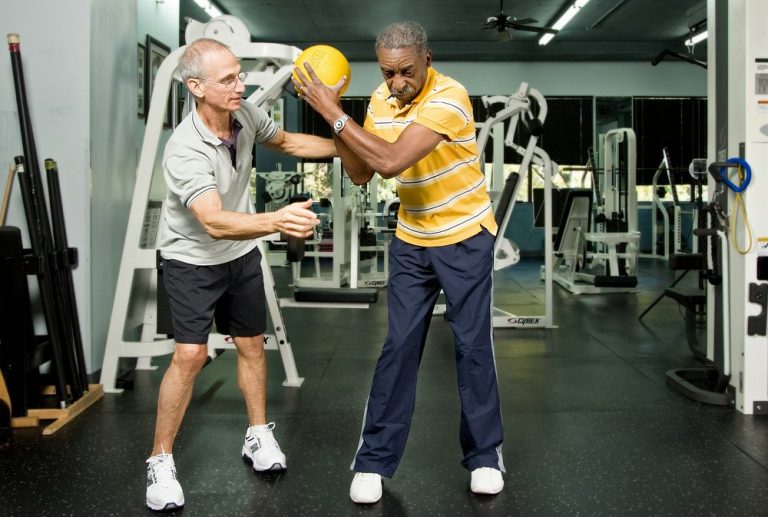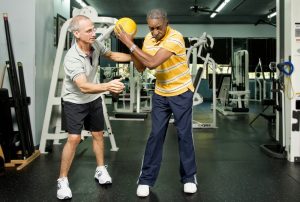 A recent article in the New York Times, "25 Again? How Exercise May Fight Aging", posits that chronic, low-grade inflammation contributes to the ails and ills of the aging process. The study referred to, published in the Journal of Applied Physiology, compared the inflammatory response in young and older male exercisers, and sedentary males after a weight lifting session. They found that exercisers of all ages had reduced inflammation post-exercise compared to sedentary men. The conclusion: those who keep exercising, especially with resistance exercises, from youth into middle- and older-age, maintain more and better muscle quality and function. And even those who start lifting in middle or even older age can, indeed, improve both muscle mass and function, along with the peripheral benefits that come with it.
Another recent study in the Journal of Bone and Mineral Research reports that older, obese people who do resistance exercise while trying to lose weight can fight off the natural loss of hip bone density that accompanies weight loss.
And from the journal Nature Medicine, a report that exercise may help stave off "heart disease, cancer, diabetes, kidney disease…and autoimmune and neurodegenerative disorders", and possibly mental health issues, by reducing chronic inflammation adds power to the many other articles that support the benefits of exercise.
The point is that our clients seek the wisdom and guidance of educated, qualified personal trainers to do more than help with improving strength and stamina. The natural discontent with modern lifestyles' effects on health drive them to STEPS, providing the second pillar to 30 years of surviving as a small business in a big business world.
Pillar III: The Winter of Exercise Science's Discontent
This is a stretch, but the field of exercise science has surely changed in the past 30 years. Whereas it struggled from the 1960s to the late1980s to establish itself as the keystone for weight management, body shaping and heart health, by the early 2000s enough data had accrued to demonstrate that "exercise is medicine". In 2007, the American College of Sports Medicine, in cahoots with the American Medical Association, launched the Exercise is Medicine (EIM) brand.
The idea stems from a torrent of research demonstrating the multitude of positive benefits and even some of the limitations of exercise in maintaining and regaining health and function. A threshold had to be crossed that took exercise beyond fitness, and the aging of Boomers contributed to this crossing.
In the 60s and 70s, the bulk of research demonstrated that cardiovascular exercise served the heart and metabolism well. In the 80s, new studies started showing that resistance, or strength, training yielded some of the same benefits, though slightly less so, that cardiovascular exercise did. By the 90s, we were starting to hear about age-related disorders such as osteoporosis, or chronic bone loss, especially in post-menopausal women, and how weight-bearing and weight-loaded exercise can slow or possibly reverse it.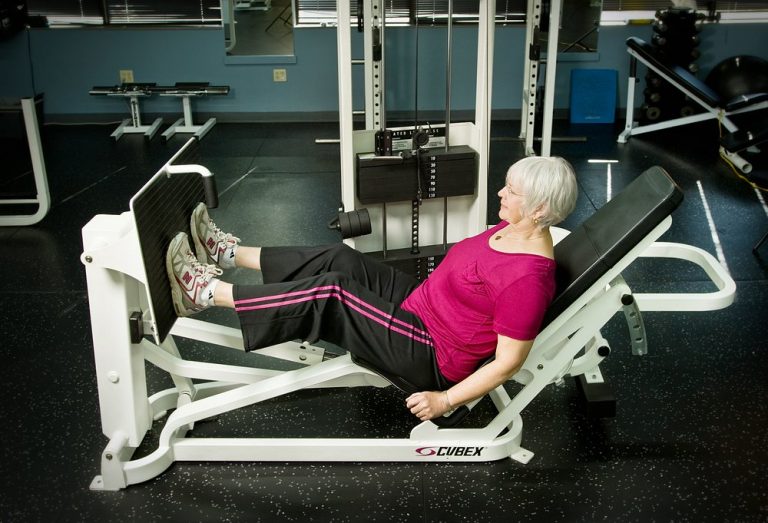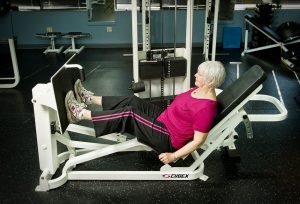 By the early 2000s, as Boomers' parents and Boomers themselves got even older, the risk of falls added momentum to the idea that exercise provides functional benefits beyond what we knew from sports and recreation. Furthermore, as science progressed in its march to find ways to prevent disease, especially from large population studies that provided longitudinal data with which to compare active from inactive people, new benefits revealed themselves: reduced risk of many common cancers, reduced risk of type 2 diabetes with the possibility of reversing it, reduced risk of emotional disorders and even reduced risk of cognitive decline.
Through it all, over the past 30 plus years, we in the field of exercise science, especially trainers here at STEPS Fitness, have tried to stay abreast of the rapid rate of EIM news. It keeps coming, changing slightly but always in the same direction: exercise, especially that which is provided by qualified professionals, may be the best, least expensive medicine you can take to prevent disease, disability and dysfunction. And it has very low risks of adverse side effects!
If the science of exercise is discontent with what we know so far, it's simply because we know there is a lot more out there that we simply can't gage with the tools available. But for those of us who do exercise, who try to stay fit, who endeavor to eat right and exercise more, it doesn't take, as the best swimmer in the world, Michael Phelps, reiterated at an annual meeting of the American College of Sports Medicine, a rocket scientist. It just takes doing it. For 30 years…or even longer.
Pillar IV: Without Whose Help the Others Fall Short
As we close out our 30th year in business, and enter the holiday season of peace, joy and goodwill to all – that's a joke, by the way – it would be remiss of me to not acknowledge some special folks. After giving props to my fellow trainers, our dedicated, faithful, and supportive clients, and to the science of fitness and exercise itself, it behooves me to give thanks to a few special special people.
For 30 years, it has been my overriding duty to meet a standard in fitness facilities that I'd read in an industry magazine years ago. Whereas men enter a gym and get wow-ed by the equipment (more on that in a minute), women come in and see the dirt and smell the sweat. The less of those, the more willing they are to join up.
While I have admittedly cut some corners on the equipment, especially by not upgrading  based on newness, slickness and fancy technology, focusing instead on functionality, variety and utility, when it comes to clean, just ask the cleaning staff. I have always demanded of them to keep the place as clean and dust-free as feasible, and they have done so quite well. Granted, you can't eat off the toilet seat, as I request of all new maintenance staff, but that's the mission: to keep the place as sterile, odor-free and orderly as possible when you have dozens of people running around all 8000 s.f.
We should all give props to Walter and now Aneesah for their efforts at doing so. It's a chore, I know, and one that I help with when everyone else has gone home to their evening functions. But it's essential, and it helps to make our clients' experience here a little less burdensome, I hope.
Finally, for 15 years now, Ivy has kept not just the books afloat, the staff calm and collected, and me in my place, wherever that may be and under whatever circumstances we have faced. Without Ivy, and there is no such person as 'an Ivy' who could do what she does with style and panache, STEPS Fitness would have limped into corporate history as another failed small business. Ivy not only runs the trainers, the gym and me; she makes looking forward to more years of doing so as a Mission: Possible, and not a chore or task.
To Ivy, Walter, Aneesah – and even Lele when she did her job – I give my thanks and utmost appreciation for making our 30 years of serving you, our clients and friends, possible. And doable.

The Pillars of Success: The Table is Set for Many More Years
No one knows the future. We all live, to some extent, day to day. But what we have here at STEPS is a strong foundation and structure that very well could see 30 more years, though I'll likely be in a wheelchair watching Ivy run the gym, and you staying healthy and fit. At least, I hope so. Thanks for the past 3 decades.
Comments
comments