As If Getting Older Isn't Bad Enough… Part 2
Last month we wrote about a study showing how runners get slower as they age due to weakening calf muscles. This month, as if to remind you you're getting older and need to start or continue doing regular exercise, we report on a study that measured the trajectory of lower body strength loss over time.
Many studies have been done in this arena. Most show 'exponential' declines in force, speed and power by as much as 40% by the 7th and 8th decades of life. Called dynapenia, these declines have been attributed to loss of muscle mass, reduced fast twitch fibers, atrophy, or loss of motor neurons.
For certain, resistance training (RT) is how you mitigate dynapenia but you're still fighting Mother Nature.
Cross-sectional data on 357 subjects (195 women), aged 18-80, had been collected from 1991-2004. Thus, this did not allow a comparison of the change in strength of any subject over time but provided a large enough sample within each decade group to be credible.
Researchers tested quadriceps, hamstrings, calf, and shin muscles. Testing at lower speeds gave a measure of strength; faster speeds gave a sense of power.
The results demonstrate a curvilinear decline in upper leg strength and power among men for all muscle groups. The decline accelerates in the 50s. Women, however, started losing strength in their 20s and continued doing so each decade.
Lower leg values also followed a curvilinear decline in men, with average power of the calf dropping more than peak torque. This reflects those declines runners also experience as they age. Women, too, start losing strength linearly and earlier than men. Men and women start losing shin strength in their 40s and 50s, as much as 30% by then.
There are lots of data in this study that are hard to follow. The take home message is, it's never too late to start resistance training, and never wise to stop in order to stay functional as you age.
JSCR Jan. 2016
How Long Before You See Results?
On the subject of losing strength and power as we age, and the value of doing a strength/resistance training program to stay functionally fit, comes this study from Brazil.
Most studies look at young, college-age kids to determine the training volume needed to produce measurable strength gains. And most of these found that it takes ~9 sessions (4.5 wks). This one looked at a small group of elderly – 60 y/o, for crying out loud! – doing leg press machine exercises compared to a small group of controls.
The training consisted of 4 sets of 10 reps (about 70-80% of their maximal ability adjusted over time as they got stronger) twice a week over a 10 week period.
They found that it takes about 9 weeks, or 18 sessions, lifting at this intensity to get about 42% strength increases and ~7% size increases. These results correspond well with other studies that looked at older subjects.
This study piggybacks well with another in the same journal that tested the hormonal, hypertrophy, and strength benefits of doing combined strength (S) and endurance (E) sessions in women. Fifteen did E+S while fourteen did S+E within the same sessions, for 24 weeks.
Growth hormone, necessary for both muscle growth and strength increase, was higher after S+E than E+S. Testosterone, which is lower in women anyway, was elevated only after S+E.
Despite these favorable hormonal changes with S+E training, both groups increased max leg press strength, maximal cardio workload, and muscle size.
The take-away here is that, no matter how you mix your exercises, if they are intense enough and done at least twice a week for at least 9 weeks, you will see favorable results, even in the aging.
                            JSCR Jan. 2016
Chicken 'n Biscuit Pot Pie      

 from www.foodnetwork.com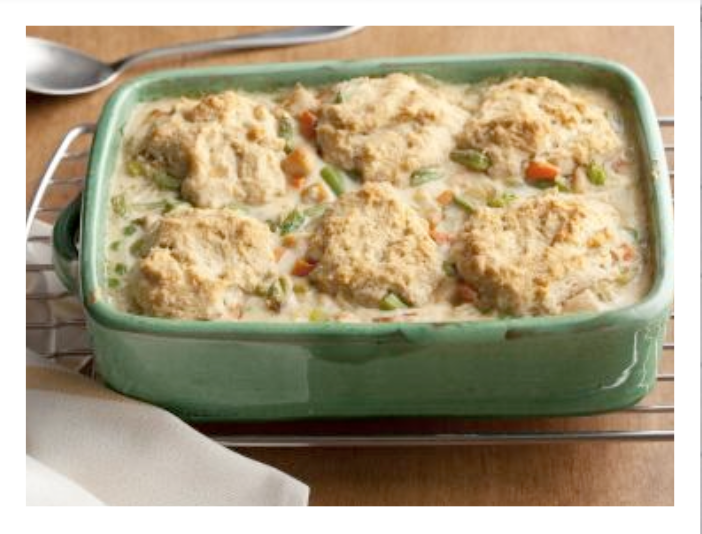 Ingredients: 
Cooking spray                                                                             
3/4 tsp salt
1/2 tsp fresh ground black pepper
1.5 lbs boneless/skinless chicken breasts, cut into ½" squares
4 tsp olive oil
1 med onion, chopped
2 med carrots, chopped
2 celery stalks, chopped
1/2 lb green beans, cut into 1/2" pieces
2 garlic cloves, minced
1.5 c lowfat milk
1/4 c all-purpose flour
1 c low-sodium chicken broth
1 c peas, thawed if frozen
1.5 Tbsp fresh thyme leaves
BISCUITS:
1/2 c whole wheat flour
1/4 c all-purpose flour
3/4 tsp baking powder
1/4 tsp baking soda
1/4 tsp salt
3 Tbsp cold butter, cut small pieces
2 Tbsp canola oil
1/2 c lowfat buttermilk
Directions:
1. Preheat oven to 375 deg. Spray large shallow casserole dish with oil.
2. Season chicken with 1/4 tsp each of salt and pepper. Heat 2 tsp oil over med-high heat in skillet. Add chicken and cook 5 mins. Transfer chicken and juices into a bowl.
3. Add 2 tsp oil to skillet and heat up. Add onions, carrots and celery cooking til softened. Add green beans, garlic and rest of salt and pepper, cook for 2 more mins. Add milk. Stir flour into broth and cook til dissolved. Add to pan, cook, stir until mixture comes to boil. Reduce heat and cook 2 more mins. Return chicken and juices to pan; add peas and thyme, stirring it all up. Add salt and pepper to taste. Spoon mixture into baking dish.
4. CRUST: mix dry ingredients in food processor and pulse a few times; add butter and pulse until chunks are formed. Add buttermilk and oil until just moistened.
5. Drop batter in 6 mounds on top of chicken mixture, spreading out slightly. Bake til filling is bubbled and biscuit topping is golden brown.
Nutrition (per serving of 1.25 cup):
Calories: 400
Protein: 31 g
Carbohydrate: 31g
Total fat: 17 g
Saturated fat: ~6 g
Monounsaturated: ~8 g
Fiber: 5 g
Sodium: 600 mg
Cholesterol: 82 mg
Comments
comments