March 2023
Get a Grip on Better MENTAL Health
In January, REAL News reported on a study in MSSE (Nov. 2022) that demonstrated substantial correlations between handgrip strength (HGS) and overall health and function in older adults. Now, a December 2022 article in the British Journal of Psychiatry adds to the value of HGS for older adults at risk for depression. It even goes so far as to lay down gender-based parameters.
In a study of over 115,000 people, a "significant association" between HGS – a highly-correlated marker of overall muscle strength and function – was found with depression in middle-age and older adults. While dynapenia and sarcopenia (age-related loss of muscle strength and mass, respectively) are common as we age, we know resistance exercise can boost muscle strength and muscle mass, reduce systemic inflammation, enhance neuroplasticity and oxidative stress responses.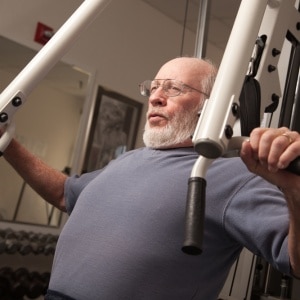 So, if HGS is a marker of a lifestyle that includes strength exercise – and that includes activities like gardening and household chores – then it may also have a bearing on mental health.
Indeed, in a 24-nation Survey of Health, Aging and Retirement, where HGS was categorized into tertiles with the 1st tertile being the weakest, 26.1% had a risk of depression over a 7-year span. Women with HGS up to 27 kg and men up to 40 kg had around 1/2 – 2/3 the risk of depression of their weaker peers.
The researchers suggested that, from a psychological standpoint, "being physically strong may lead to a sensation of psychological wellbeing." So get a grip…
Running Shoes vs Running Injuries
Distance runners tend to have what are called running-related injuries (RRI) that shoe designers claim to be able to mitigate or prevent. A shoe variant – a motion-control shoe – presumes to prevent overpronation, where the foot flattens and the ankle turns inward at initial impact. In theory, this pattern of excessive rotation and lengthy duration of that position might contribute to shin splints (medial tibial stress syndrome), plantar fasciitis, and many other common foot injuries. A European study aimed to investigate whether or not a motion-control shoe actually prevented excessive-pronation injuries and the development of other RRI.
They gave 372 recreational runners either a standard neutral shoe or a motion-control shoe and recorded RRI over a 6-month period. They then categorized RRI according to type: pronation-related or non-pronation-related. Twenty-five pronation-related and 68 non-pronation-related RRI occurred.
The results showed that "motion-control shoes may reduce the risk of pronation-related running injuries, but did not influence the risk of other running-related injuries…[The hazard risk ratio] to develop pronation-related running injuries was almost 2.5 times lower with motion-control shoes versus standard shoes."
One of the biggest predictors of RRI is, as for many injuries, previous RRI. "Sufficient recovery time is important, while prevention of the first injury may be even more valuable," the researchers noted. For runners who are prone to RRI, keep in mind there is "currently no consensus on the classification of running shoes."               
JOSPT Feb. 2023
Tid Bits
The breakfast debate continues. A recent study in Cell Metabolism followed 30 overweight or obese people for two 1-month calorie-restricted eating plans of equal total calories: one ate 45% of their daily diet at breakfast, the other had only 20% at breakfast. Despite no difference in metabolism or metabolic rate between diets, the morning-loaded plan reduced overall daily hunger which might make a calorie-restriction diet work better.                         IDEA Fit Jan. 2023
Do vegetarian diets predispose women to broken hips? A BMC Medicine study of 26,000 British women ages 35-69 found that those who "never consume meat may be more likely to break a hip than women who regularly include meat and/or fish in their diets." The subjects had completed food frequency questionnaires and were followed for about 20 years to see who suffered a hip fracture. While there was a correlation here, causation was speculative: was it a lower body mass index or shortfalls of certain nutrients? There might be a good argument for supplements for those on vegetarian diets.                                                                        IDEA Fit Jan. 2023
One of the most common side effects of breast cancer and its treatments is persistent pain; some 25% – 60% of patients have it and it can linger for years. A Danish study looked at the effects of a 12-wk, twice/weekly, supervised, free-weight (not machines) resistance training (RT) program on pain in 20 breast cancer survivors randomly assigned to RT or as controls. The routines included 2-4 sets of 5 exercises with plenty of rest between sets. Loads were light at first but got progressively heavier to where they could only do 2-4 reps/set. On average, the RT patients increased max strength by 48%, experienced a 35% decrease in pain sensitivity, and half reported a substantial decrease in everyday pain. Sadly, at the 3-month detraining follow up, strength held but pain relief didn't. So keep pumping iron.                                                                     MSSE Feb. 2023
Comments
comments