Spring 2019
Another Fitness Myth, Busted!
What's it going to take before people stop believing that exercise is medicine; that exercise is beneficial to not just physical health but even brain health; not just brain health as in cognitive function but in emotional well-being? How much more data is required before even those who abhor the idea of taking a walk or swim, or doing some chair squats or kitchen-counter push-ups, or stretching your legs right before you lie down to sleep – how much more scientific proof is going to have to come out before people start believing that it's much better to sit around for hours on end, noshing on low-carb, low-fat, artificially-sweetened, non-gluten, pseudo-dark chocolate snacks? I just can't wrap my head around all the 'fake news' surrounding exercise.
Then, BOOM!!!! – out come two other studies showing that, no, it doesn't take a marathon or world record effort to live longer and healthier.
The federal government is sluggish in many ways but every decade it updates exercise recommendations. Last fall, new guidelines suggested that Americans might be able to reduce the estimated $117 BILLION in annual health care costs related to lack of activity by simply accumulating 150 minutes of light- to moderate-physical activity each week. That's ~22 minutes a day! With benefits to the heart, muscles, kidneys; to improved sleep, reduced anxiety and depression; to lower risk of various forms of dementia; and lower rates of certain cancers, these guidelines amplify the message we've been hearing from the fitness and exercise research communities for decades.
In another study from Harvard, 1,104 male firefighters were tested at one moment in time on how many push-ups they could do. Their average age was 39.6 at the beginning of the study; they were then followed for 10 years to see if their heart health was related to their initial tests. It turned out that 37 men experienced cardiovascular disease related incidents from receiving a diagnosis to sudden cardiac death. Those who were able to do over 40 push-ups in their baseline tests had a 96% lower risk of heart disease. That's nearly HALF the risk as those who could do fewer than 10.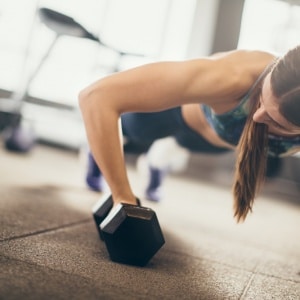 Now that does not prove that push-ups alone will protect you from heart disease. What it suggests, however, is that muscular fitness of which a high number of push-ups results, is a good predictor of future morbidity and early mortality risk. Again, this could be considered fake news and a de-motivator; or it could be deemed newsworthy and applicable to your choices as to what to do with a few minutes of your day to get and stay in shape. So maybe the myth of being sedentary and well-fed is busted, and fitness is all we cracked it up to be.
Bone Mass, Teen Athletes, and Options
In December 2018, an article in the American College of Sports Medicine's flagship journal, Medicine & Science in Sports & Exercise, published a study that should spark the attention of parents with school-age kids everywhere. We all are aware and concerned about kids' predilection toward sedentary activities – an oxymoron, one might think – and aware that that lack of regular physical activity has physical health as well as emotional and social health consequences. Yet perhaps we take too much solace in the activities that our kids do in middle and high school, with hopes that doing so will translate and transfer into lifelong commitments to staying healthy.
But what if your kid's choice of sport is lacking in some far off benefit few of us give consideration to? What if the sport your kid engages in as a kid is actually
detrimental in long, long run?
Who thinks that far down the road anyway?
Well, medical researchers and knowledgeable exercise professionals do, as this and this blog attest.
The researchers of the article above compared the bone density of adolescent male – not female, which is a horse of an entirely different and scarier model – had previously reported that soccer players had 7% – 21 % better bone status than their age-peer swimmers, cyclists and controls. During the teen years, bone mass is optimally promoted, so differences of these levels are of concern. The clear distinction lies in the weight-bearing and angular-movement components of soccer as compared to the other sports. So in this study they looked at whether or not a program designed to enhance bone growth in male non-weight-bearing athletes would boost the accrual of bone enough to be deemed worthwhile.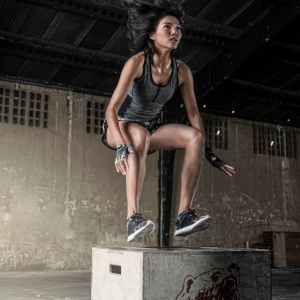 Plyometrics, or organized, regulated, and progressive jumping exercises, have long been used to improve athletic performance, especially jumping power and height. A 9-month plyometrics program was instituted for half of each sport group; the non-intervention athletes served as a control group.
The results were noteworthy as the swimmers and cyclists who did plyometrics increased spinal (4% – 6%) and femoral (10% – 11%) bone quality but the soccer players did not. These results demonstrated that weight-bearing impact-loading can restore bone health even in adolescent, physically-active males. Perhaps our female teenagers should take note so that osteoporosis is not in their future.
Health & Fitness Tips
In this new section, we share short and quick synopses of health, exercise and diet tips from the literature without the citations of the original research. The sources of each tip are noted in small print to save space and time.
Over 120,000 people were treadmill tested for cardio fitness periodically for 14 years. Those with the highest aerobic fitness lived the longest, especially those over the age of 70, especially if they'd kept their high levels of fitness over the study period.
Harvard Men's Health Watch, Feb. 2019
Analysis of weight, diet, medical data and exercise habits of 722 85-year olds was compared to their levels of disability. Those who consumed 25% – 50% more protein (~1.0 – 1.2 g/kg/day) than is recommended (0.8 g/kg/day) were found to have fewer markers of disability over the 3-year study.
Harvard Men's Health Watch, Feb. 2019
Eating more fruits and veggies was associated with improved memory function among the 28,000 subjects, average age 51 at the start, who completed dietary questionnaires every four years over a 20-year span.
Harvard Men's Health Watch, Mar. 2019
A study of more than 61,000 women, ages 50-79, who were originally cancer-free found that those who'd lost 5% or more of their initial weight were slightly less likely to develop breast cancer than were those who remained weight stable.
UC-Berkeley Wellness Letter, Feb. 2019
An analysis of 40 randomized trials that included over 22,000 older adults found that those who exercised for a year or more had a12% relative risk of falls and a 26% relative reduction in falls with injury compared to those who did not exercise.
Harvard Health Letter, Mar. 2019
A massive review of dietary supplements found that many, due to federally-restricted FDA regulation, contain harmful substances such as erectile dysfunction drugs, carcinogenic or anti-depressant weight loss drugs, or muscle-building anabolic steroids.
DukeMedicine Health News, Feb. 2019
Spring Speakers Program
The demand for more quality presentations following our successful 2018 Spring and Fall Speakers program has led to scheduling three new programs for Spring 2019.
On Wednesday March 13 at 5:30 p.m., Susan Carter, MMHC, Administrative Director of Vanderbilt's Osher Center for Integrative Medicine, and Dan Defigio's wife, I might add, will be presenting on "Mindfulness for Brain and Body Health". Susan will discuss the latest and greatest on the neuroscience of mindfulness and how it benefits exercise and life itself. Come prepared to practice some simple mindful practices.
Then on Tuesday  March 26  at 5:30 p.m., Scott Kinney, trumpet playing-personal trainer with a strong background in and experience with teaching women's self-defense, will not only discuss how to prevent an assault but what to do in the event of one. This is the perfect class for prospective college students as well as their mothers and grandmothers.
Finally, on Wednesday April 17 at 5:30 p.m., Dr. Ethan Kellum, an orthopedic surgeon who did his residency working with the Boston Celtics as well as Harvard and Tuft Universities' athletes, will share the latest science on biologics to prevent or delay joint surgeries. Biologics include PRP and stem cells, non-surgical interventions that keep a lot of pro athletes on the field or court, so why not you?
Taxing Training Services: Putting On Noses to Spite Faces
Last fall, this newsletter alerted you to the summer update of a sales tax regulation that was going to burden the fitness industry. Poorly written and very pointedly at one segment of the fitness industry, only some of us – like STEPS – were subject to the Amusement Tax. Thus, it was going to add 9.25% to services that would enhance health and wellbeing while getting your nails done or having your hair cut would not be taxed. Silly, for sure.
Well, we just got word February 19 that Gov. Bill Lee would sign off on a repeal of this "gym tax" if the Legislature passes it. He said, in a press release, "Unfortunately, we've discouraged Tennesseans from investing in their health and wellness by taxing their efforts," said Lee. "The skyrocketing costs of health care and Tennessee's high rates of obesity and diabetes means we simply cannot afford to discourage healthy habits."
Let's keep the pressure on our legislators so they know that the state of our state's fitness doesn't need any more burdens beyond the headwinds all modern society members face.
Comments
comments